Planning for the 89th annual
Charlevoix Venetian Festival has begun!!
The calendar says that autumn has arrived, and that can only mean one thing; time to move the summer chairs inside and keep the party going!
Well, that's what we're doing here at the Venetian office, at least. Plans are underway for the 2019 Festival and with one band booked and several more in the works, summer is never ending.
---
Pirates have invaded CVF!
Aaarrrrrggggg! Pirates be takin' over the Venetian Festival Street & Boat Parades, so get plannin' ye dirty scoundrels for a party like none other when we take over yer city by land and by sea for Venetian 2019.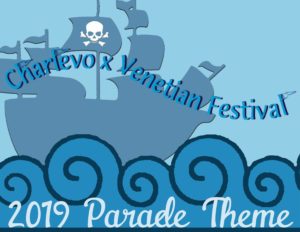 ---
If you enjoy the Charlevoix Venetian Festival, please consider giving a financial contribution.  Click here to donate.