Venetian Fireworks take place on two nights and are specially produced & choreographed by:
Colonial Fireworks Special Effects with world renowned Master Pyrotechnician, Frank Loffredo, Jr. 
Frank's credits include: Thunder Over Louisville, Bicentennial Rededication of the Statue of Liberty in New York Harbor,
Desert Storm Victory Celebration in Washington, D.C., and the Detroit Freedom Festival.
night sky world class fireworks

Friday • July 21, 2023
Around 10:15 pm (dusk)
A high aerial fireworks display shot off from Lake Charlevoix just off shore from Depot Beach on the north side of Charlevoix.
Friday evening fireworks can be seen from Depot Beach, East Park, and Ferry Beach.  The Depot Beach location offers choreographed fireworks music.  East Park will have live music right up until close to the time of the fireworks.  Ferry Beach will have live music provided by the Up North Jazz Big Band, a swing-era band providing live entertainment and a cleared pavilion perfect for dancing.
Opening act - redline airshow returns!
Zooming back into town for the third year, Redline Airshows will again adorn the Charlevoix skies with incredible aerobatics. Hear the National Anthem echoing across the harbor as the American Flag, flying high above with a parachutist, slowly drops down as if to join the party. Don't settle in yet though – a two-plane RV8 aerobatic act will "scream down" the channel before entering the Lake Charlevoix airbox to perform incredible airborne stunts. If that doesn't quench your "need for speed," hold on tight as Mike Terfehr rockets his MIG fighter jet high overhead. That's not all, folks, after rockin' to Snake Oil in East Park, a final RV8 show will return just before dusk – with pyrotechnics! It is the ultimate lead-in to one of Venetian's crown jewels, her vibrant "Night Sky" fireworks display.  The airshow is presented to the Festival by Skydive Charlevoix.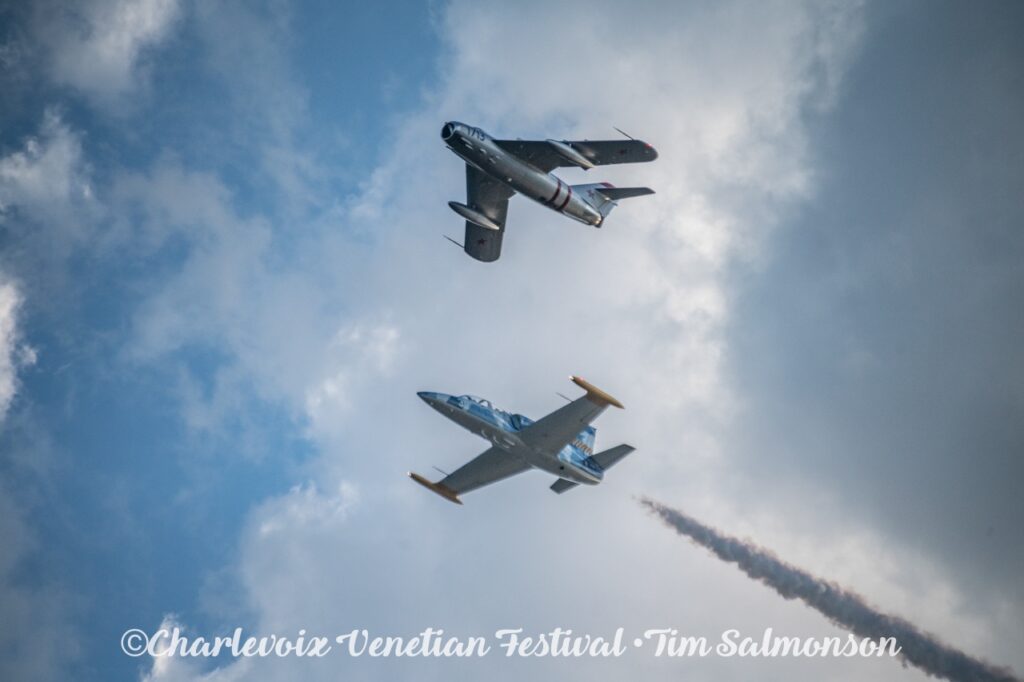 Spectacular Harbor fireworks

Saturday • July 22, 2023
immediately following the boat parade
A fireworks display on Round Lake immediately following the iconic Boat Parade.  Fireworks can be seen across the City of Charlevoix, but will be particularly spectacular in both the Bridge Park and East Park areas.