2023 Parade Theme:
Hawaiian Luau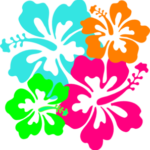 congratulations to the 2023 boat parade winners:
Best in Fleet: Johnny's Quest
Best Powerboat: Reel Nauti
Best Sailboat: Apothecary
Best Illumination: Gypsy Yacht
Most Creative: Oberon
Dockside: The Kennedy Family
Like to have fun?  Like to be creative?  Want free dockage for Venetian weekend?  Then consider becoming a participant in the 93rd annual Venetian Festival Boat Parade by filling out the application.  The Venetian Boat Parade is the longest running tradition of the Charlevoix Venetian Festival.  This event attracts thousands of spectators every year as boats of all shapes and sizes, adorned with hundreds of lights, music and animation, parade around Round Lake beginning roughly around 10:00 p.m.  You can decorate for our theme or come up with one of your own.  The objective is to have fun and represent the spirit of the Venetian Festival.  This is a family event, and along with the fireworks extravaganza that follows, is the crescendo of the Festival.
Boats will be judged in the following categories: Best of Fleet, Best Power Boat, Best Sailboat, Best Illuminated, and Best Creativity.  Everyone gets a burgee to represent their support of the festival.  We are also encouraging all boats in the marina, even if not in the parade, to get in the Venetian spirit and decorate your boat dockside.  There will be a People's Choice Award for the best dockside decorated boat.
There will be a mandatory Skipper's meeting, Saturday, 7/22, at 2:00 p.m. at the City Marina Harbor Master's Office.  Any Vessel that is not represented at the Skipper's Meeting will not participate in the parade.  NO EXCEPTIONS.  Immediately following the Skipper's meeting, each Skipper and one guest are invited to enjoy a sponsored Captain's Welcome Reception on the patio directly above the Harbor Master's Office.
It's our boaters that make this event, so please join us for this exciting Venetian tradition.  It's a great way to be a part of the Venetian Festival and have fun in the process.  Just be careful not to go "overboard" with enthusiasm!  For more information, please contact Maureen Owens at: maureen_owens@hotmail.com