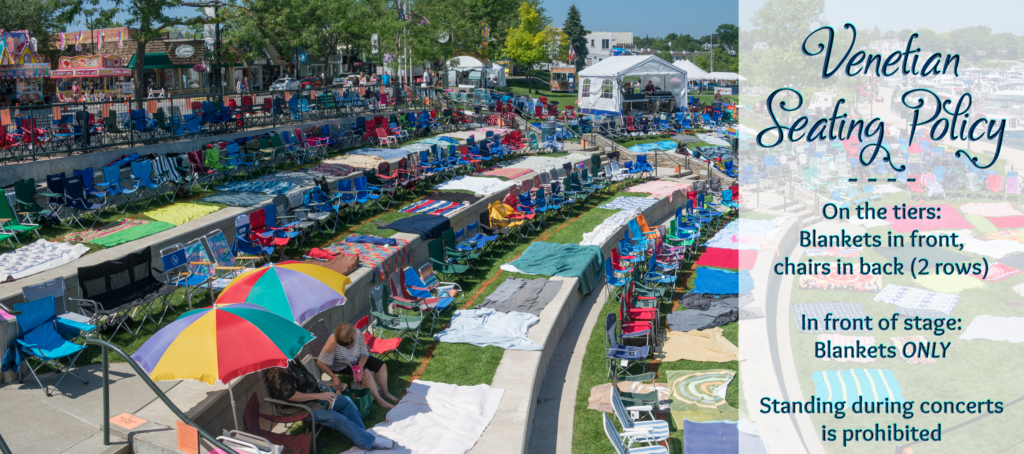 When blankets outnumber residents, things can get a little crazy down in East Park. As a result, Venetian has established a seating policy to allow those in the Pavilion area to experience the Venetian concerts at all seating levels. The seating policy has been revised somewhat this year, to address safety concerns posed by the "chair rush" which has occurred in the recent past, when the Odmark Pavilion seating areas were opened at noon for patrons to stake out their seats for that evening's concert.
This year the Pavilion seating areas will be opened each morning at 8:00 a.m., from Venetian Monday through Venetian Saturday, for those who wish to place blankets and chairs to reserve their individual seats. The stairwells to the Pavilion tiers will not be accessible, for safety reasons, until 9:00 a.m. These arrangements will be overseen by security and law enforcement personnel.
Blankets must be placed in front of the painted orange line located(i) within the bowl area fronting the stage and (ii) on the tiers. Chairs more than a 8" off the ground are not allowed within the "blanket zone" and will be set aside by Festival and security staff.
Please also note that if any chairs, blankets, coolers, etc., are left in the Park overnight, they will be removed and discarded by the City Department of Public Works (DPW) in the early hours of the morning. Please make sure to grab all of your belongings at the end of the evening and clean up any trash around your area so we can give our hard working City DPW a little break at the end of the night.
As a matter of safety and courtesy to others, Venetian requests your friendly cooperation, which will allow all spectators to enjoy Venetian's free admission concerts. If you have any questions, you may contact the Venetian office at:
231.547.3872 or speak with the Venetian staff which will be on-site during the week.
For full seating policy rules and regulations, click here.