Charlevoix Venetian Festival Artwork
2017 :: Randall Higdon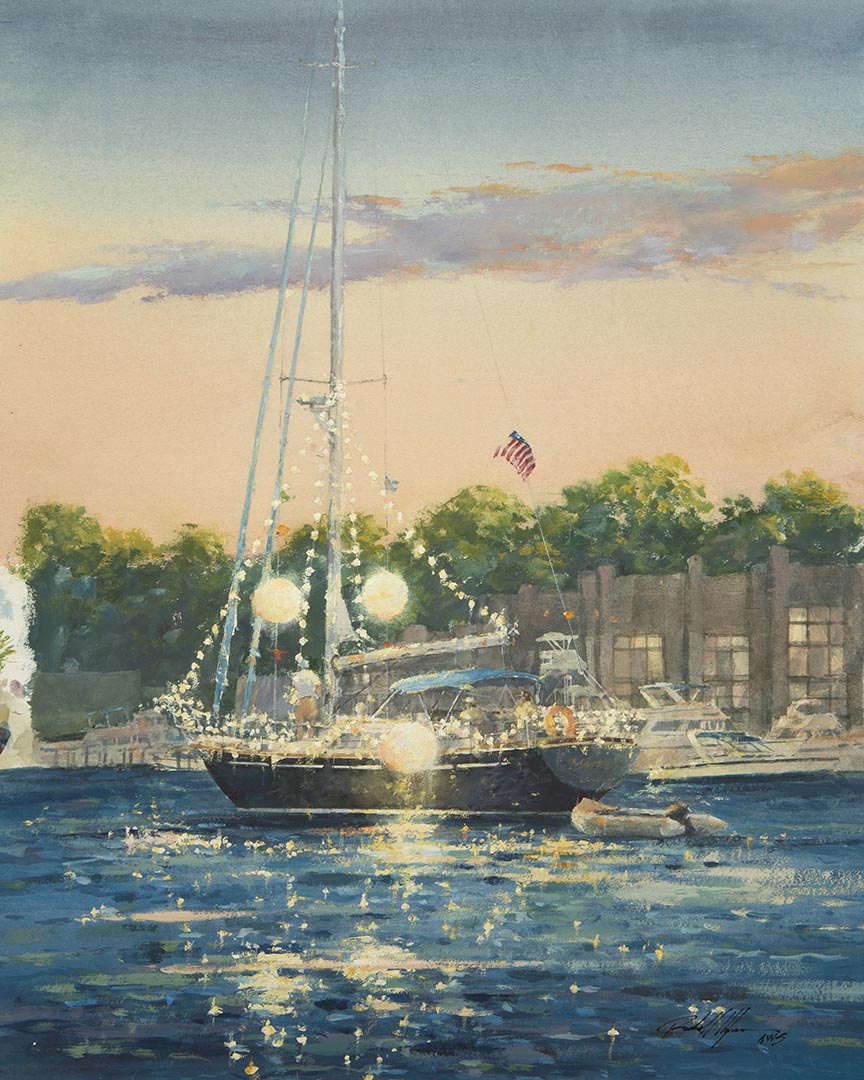 Randall Higdon
"Simplicity is a characteristic in the majority of my paintings. I enjoy the physical act of painting so much, the passion to get going with paint and brushes overrides the desire to develop complex compositions." Higdon draws upon his immediate surroundings and places visited for his inspiration. Being a long-time sailor has enabled him to experience the waters of inland lakes and Lake Michigan.
Born and raised in Michigan, Higdon is a graduate of the Kendall College of Art & Design in Grand Rapids, and has devoted his energies to fine art painting since 1978.
Randall Higdon is a signature member of the prestigious American Watercolor Society in New York. He is a member of the National Society of Marine Artists and the National Society of Painters in Casein & Acrylic.
2016 :: Candace Klooster Speck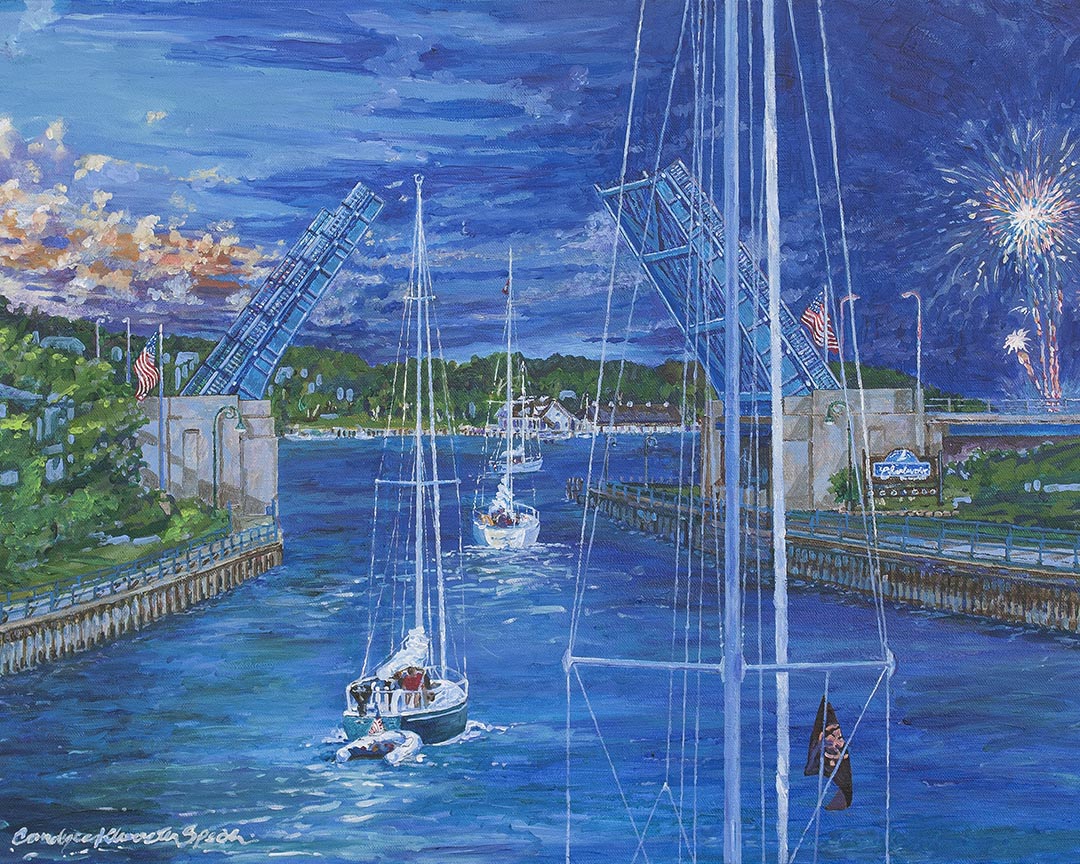 Candyce Klooster Speck
Candyce Klooster Speck is a painter, jewelry designer, and native of Charlevoix, Michigan. She paints many local landcapes depicting Charlevoix and Northern Michigan. Watercolors and Acrylics are her medium.
Candyce received the first art scholarship awarded at Charlevoix High School in 1973 and that same year was able to show her work at the annual Waterfront Art Fair in Charlevoix. She graduated from Kendall School of Design in Grand Rapids, Michigan in 1976 with a degree in graphic design and illustration.
She became a designer for Jeffrey Corbin Design in Traverse City working on a variety of projects including the renovation of the Traverse City Opera House, book illustration, and logo and architectural design for The Grand Traverse Resort. 10 years later she moved to San Diego, California and became a designer and public relations representative in the textile industry and was fortunate enough to travel to Bali, Indonesia where she worked with other artists creating textile, clothing and jewelry designs.
After visiting Costa Rica, Candyce and her husband fell in love with the lifestyle and stayed for 13 years. Painting became her passion and soon she opened her own gift shop, selling her watercolors, acrylics, and jewelry designs as well as selling local native art. In 2007, Charlevoix became their permanent home. Candyce paints from her Sea-Horse Art Studio and her work can be found at Round Lake Gallery in downtown Charlevoix. Please visit her website at: www.candycekloosterspeck.com.
2015 :: Kathleen Chaney-Fritz

Kathleen Chaney Fritz
Kathleen, one of Michigan's most talented artists, is particularly noted for capturing so beautifully and perfectly the essence of Michigan as we all enjoy it. From a solitary rowboat amidst the lake grass to sailboats returning at dusk, trillium and lilies from our woods and backyards, children playing on the beach, apples picked fresh off the tree, the art of Kathleen Chaney Fritz reminds us of the days of our youth and summer vacations with our children.
Her imagery is timeless; her paintings awaken the senses and allow us to revel in the beauty that is unique to our Great Lakes State. Enjoy Michigan at its very best through the eyes of a real treasure, Michigan painter extraordinaire, Kathleen Chaney Fritz. 
A graduate of Kendall College of Art & Design, Kathleen worked for many years as a free-lance illustrator, honing her skills in drawing and her ability to quickly deliver on a variety of projects. In 1986, following the overwhelming success of her first poster, a commemorative watercolor for the prestigious Charlevoix Waterfront Art Fair, Kathleen because to focus on her career in fine arts.
Although the scenes depicted in a Chaney Fritz painting may be familiar — Michigan sand dunes, boats on the Great Lakes and carriages on Mackinaw Island, as examples — each painting is an original composition rather than a photographic rendering. "They still have the brush strokes of the painter," said one art critic.
It is Kathleen's vision and her eloquent portraits of the Michigan scenes she enjoys that are so captivating by those fortunate enough to see or own them. She displays amazing talent in capturing with paint and brush the feelings she sense and wishes to share. The water reflections, the shadows, the brilliant sun, the textures of flower petals, amazing vistas all come to life in the painting by Kathleen Chaney Fritz.
2014 :: Todd Warner

Todd Warner
The Charlevoix Venetian Festival proudly introduces "Venetian Boat Parade Circa 2349 BC," painted and donated by Todd Warner, to raise funds for the 2014 Charlevoix Venetian Festival.
With warmth, humor and sensitivity, painter and sculptor Todd Warner has been creating his imaginarium of sophisticated whimsy for over 35 years. From life size "Cowboys and Indians," to butlers and brahmas, to larger than life ostriches and armadillos, Todd's creations adorn lobbies, living rooms, entryways, offices, zoos, museums – even the Orlando International Airport and the New York State Thruway.
Today Warner resides fulltime on his farm in Charlevoix, Michigan, taking care of animals and working in his studio. Over the years the Warner's have raised and rescued hundreds of animals. Warner nurtures the animal's bodies and souls; it is this compassion that when in his studio, brings clay to life!
"There is an innate sense of humor in my work, but I'm not going for the belly laugh, I just love to make people smile." See more of Todd's work at: toddwarnerstudios.com.
2013 :: Cal Kemppainen

Cal Kemppainen
Calvin has been studying the art of painting since he was 12. A native of Michigan, Cal currently pursues his passion for art and his love of nature by painting and teaching at his restored circa 1870's Gothic Revival home/studio, Wind Ridge, in Charlevoix.
Cal's work is currently displayed in private and corporate collections; Bier Art Gallery, Charlevoix; Crooked Tree Arts Center, Petoskey; and Circle of Arts, Charlevoix.
2012 :: Karen Barton

Karen Barton
2011 :: Gary Odmark

Gary Odmark
2010 :: Patricia Tinney

Patricia Tinney
2009 :: Pat Dodson

Pat Dodson
2008 :: Linda Boss

Linda Boss
2007 :: Patsy Ramsey

Patsy Ramsey
2006 :: Kelly Britt

Kelly Britt
This year's Venetian Festival official artwork was designed by Kelly Britt, a Flagstaff, Arizona native.
Britt's mission as an artist is to re-connect her viewers with the importance, significance, and the beauty of the natural environment. She primarily paints in watercolor and has a special affinity for landscapes and detailed rendering of nature's creatures.
In 1990, she moved to Michigan, and in the mid 1990s she began to paint fulltime. Britt's work can be viewed on ehr website, www.kwbrittstudio.com, as well as in her gallery, Whispering Wings Fine Art Gallery, located at Swan Valley Marina, and the Café Casa Gallery, both in East Jordan.
2005 :: Russ, Lori & Sue Bolt

Russ, Lori & Sue Bolt
This year's Venetian Festival official artwork was designed by Charlevoix resident's, Russ, Sue and Lori Bolt, who own and operate Bolt GrangeHall Pottery & Workshop off Marion Center Road in Charlevoix's Marion Township. Each artist painted a block commemorating the Festival's birthday.
2004 :: Laurie Hodgson

Laurie Hodgson
2003 :: Trish Morgan

Trish Morgan
2002 :: Kim Left

Kim Left
2001 :: Bolt Art Gallery

Bolt Art Gallery
2000 :: Carrie Wakulat

Carrie Wakulat
HOW TO BUY
Randall's original Venetian painting will be auctioned at the festival, Friday evening, July 21st, 2017, 7:00pm, in East Park, following the Queen's coronation ceremonies.
To place a bid on the 2017 art or to arrange a proxy bidder, please contact Anne Golski: 231.675.2164 or argolski@chartermi.net
Posters and t-shirts can be purchased at the Venetian merchandise booth during Venetian week or at the Venetian Festival office.  Past Venetian Artwork posters can also be purchased at the Venetian Festival office.